About Us
Our Veterinary Clinic in Enid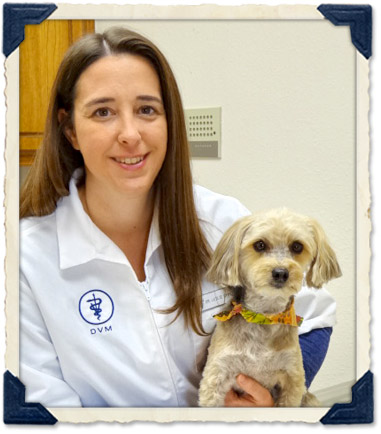 Selecting a veterinarian is one of the most important decisions you make as a pet owner. When you choose Wheatland Animal Clinic to be your pet care partner, you can be assured your pet is receiving veterinary care based on the most advanced medical protocols from a friendly, experienced, and dedicated team of veterinary professionals.
At Wheatland Animal Clinic in Enid, OK, your pet's health and your satisfaction matter – always.
Pet Wellness Exams for a Lifetime of Great Health
The centerpiece of your pet's healthcare plan at our pet clinic is regular pet wellness care, which includes annual nose-to-tail examinations, dental examinations and cleanings, customized vaccinations and parasite prevention. We strongly believe identifying issues before they become serious is the key to long-term good health and keeping the lifetime cost of caring for your pet as low as possible.
Advanced Veterinary Medicine for Dogs and Cats
If your pet becomes sick or injured, our Enid veterinarians and medical team are here to provide the compassionate, skilled veterinary care your pet needs. Our internal medicine, diagnostic, and surgical capabilities allow us to quickly provide you an with accurate diagnosis and treatment recommendations, minimizing your pet's discomfort and your worry.
Involving You in Your Pet's Healthcare
When you bring your pet in to see us, we want you to feel confident your pet is receiving the best care possible. Ask us anything you want to know. The veterinarians and staff at Wheatland Animal Clinic know great veterinary care begins with taking the time to get to know your pet, talking with you and making sure you have all the information needed to make the best choices for your pet.
Our History
Wheatland Animal Clinic was founded by Dr. Max Landsberg, who moved to Enid, OK in 1945. Dr. Landsberg initially practiced out of the trunk of his sedan and kept an office in a local motel before opening up the Landsberg Veterinary Clinic in an old dairy barn, serving both companion pets and large animals.
Over the years Dr. Landsberg welcomed several co-owners into the fold at the practice. In 1971 Dr. Jerry Weinand joined Dr. Landsberg and became co-owner the following year, renaming the practice as the Landsberg and Weinand Veterinary Clinic. In 1974 the practice welcomed Dr. Stephen Chambers, and a year later he too became one of its owners, changing the name to Landsberg, Weinand, and Chambers Veterinary Clinic. In 1980 Dr. Joel Lenz joined the practice and bought into the clinic in 1982, adding his moniker to the practice's name.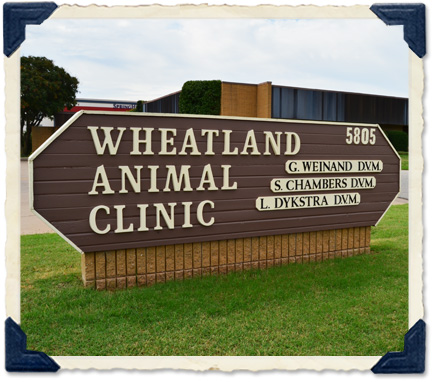 In 1983, the clinic outgrew its original location, and a new clinic was built at its current location. At the same time, Dr. Landsberg, the practice's founding partner, retired. We opened our doors in March, 1984, as Wheatland Animal Clinic.
We continued to operate as a mixed animal clinic until January 1, 2005, when Wheatland Animal Clinic became exclusively dedicated to small animal medicine. In May 2012, Dr. Lenz retired and Dr. Leslie Dykstra became one of the practice's owners. The three current owners are Drs. Weinand, Chambers, and Dykstra.
Of course, a modern veterinary hospital is more than advanced medical technology and the collective skills and experience of its staff. To that end, we work hard not just to excel at what we do, but to provide you with the exceptional customer service and support that helps you be the best possible caregiver to your pet. Please browse our website, read through our veterinary services, and see how we can help your pet live the longest, healthiest, and happiest life possible. If you have questions or would like to schedule an appointment, please call at (580) 237-1245 today.
Enid Veterinary Location & Hours
Location:

5805 W. Garriott Rd.
Enid, Oklahoma 73703
(580) 237-1245

Hours:

Monday – Friday: 8:30am – 6pm
Saturday: 8:30 – Noon
Sunday: Closed
Payment Policy
Payment in full is due upon completion of services. For your convenience, we accept cash, checks, Visa, MasterCard, and Discover.
Community Involvement
The veterinarians and staff at Wheatland Animal Clinic know that an important way to say thank you for decades of ongoing support and business is by giving back and staying connected to the larger Enid community.
Wheatland Animal Clinic is a member of the Greater Enid Chamber of Commerce and the Air Force Association Community Member. We also support local school fundraisers: Enid RSVP (Retired Senior Volunteer Program), the 4R Kids Foundation, the Tri-State Music Festival, March of Dimes American Cancer Society, and the Enid Symphony Orchestra.